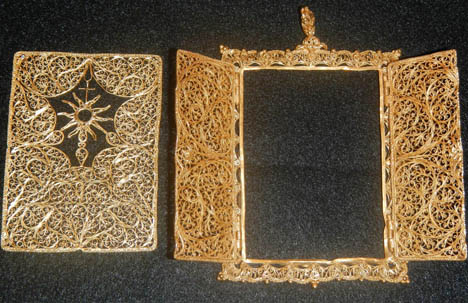 This elegant high karat gold pyx, (frame and insert) was hand crafted in the late 1600's - early 1700's for transporting a host (communion wafer). The elaborate gold filigree insert is called a lunette which features the monstrance. There is a very thin space between the frame and the lunette, the host would have been placed there to be displayed behind the "sun" element on a stem. Only gold can touch the host once it has been consecrated.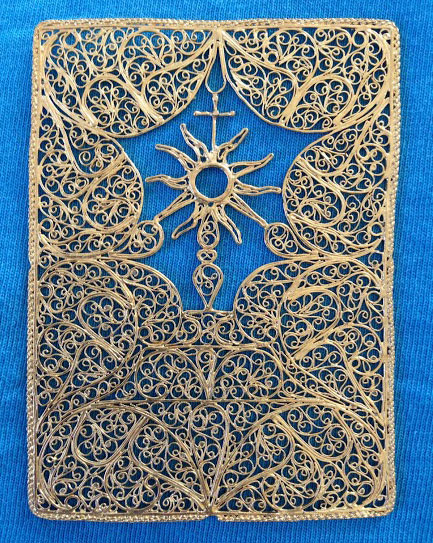 In the 16th century the monstrance took its present shape: a circular window set under a cross and surrounded with "sun" rays. The wafer would be held in the center of the sun. First used in France and Germany in the 14th century, when popular devotion to the Blessed Sacrament developed, monstrances were modeled after pyxes or reliquaries, sacred vessels for transporting the host or relics. The host was shown in a glass cylinder mounted on a base and surmounted by some sort of metal crown. These were displayed on the altar of churches and cathedrals.
This pyx has an ornate bail attached so that it could have been worn on a cord or chain to be carried somewhere, possibly to serve last rites.
Researched by Faye Asano, Big Blue Wreck Salvage, Inc. and Donna Pierce, Denver Art Museum